1. Still on a giant Scooby Doo kick around here. Apparently, I bare a striking resemblance to Velma. Whereas my daughter says she looks like the "pretty one" with the "cool scarf" around her neck.
Exhibit A: Mama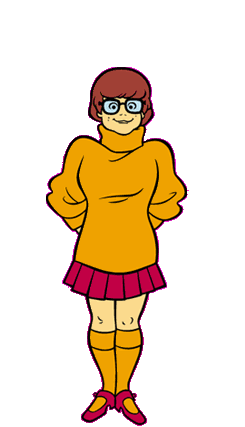 Exhibit B: Sophia
Now the bad part of this is that the other day I ordered an orange sweater. A few weeks later, I ordered a red skirt from the same place. The catalogue had them paired together with a purple scarf. Sounds crazy but looked cute. There ain't no way I'm wearing that orange sweater and red skirt together! See exhibit A.
2. My house is officially decorated for Christmas. If GiGi were a Smurf she'd be Christmas Smurf because she came over on Sunday and helped me to do some serious decorating. She can whip up a wreath in .2 seconds. And her secret, fishing line.
3. Ugly Christmas Sweater party is set for December 5. Steven's ensemble is hilarious. Thanks to my aunt for sending me not one but 2 dickies from Uncle Kev's stash. Funny, she said that I did NOT have to return them. Said that the were just going to "disappear."
4. We are about 20 days away from seeing "the mouse" And I'll be truthful, Sophia Carr could really give a flying sh*t. I'm pumped to be spending some serious cash on tickets.
5. My cousin Shane is headed to Afghanistan next week. Stinks.
6. I'm in a "hate the world" kind of mood today.
7. But wait, I saw New Moon and it was awesome despite the awkward pauses stupid Bella screaming as though she's in child birth during her "bad dreams." So maybe I don't hate the world. I came out of the theater on Team Jacob.
8. We are headed to PA on Wednesday for Thanksgiving. Four days full of cousins, a puppy, and craziness! Stella is going to have PapPap's blood pressure going through the roof! But she'll have an ally in Aunt Amy. We are doing our Christmas gift exchange while we are there since we stay down here for Xmas. I know what Soph is getting and lets just say that I have a feeling Snoopy snow cones will be forced upon everyone.
9. Pierced ears have been a hot topic around here lately. Soph's intrigued by them, wants them, but also knows that there is pain involved so the chicken in her takes over. I'm leery because even if she does go through with it, I know that she'll fight me to the death taking care of them.
I chickened out on multiple occasions. The first time, i was 4 and went with my best friend. I made the mistake of letting Allison go first so I saw what went down and said, hell no. Then finally a few weeks later my great aunt was watching me and i announced that I was ready to bite the bullet. Not wanting me to change my mind she said, "get in the car, lets roll!" I distinctly remember that I had on wonder woman under-roos. That's it. And I remember her taking me down to a small town beauty shop, climbing up in the chair, and that was that. In my under-roos PEOPLE!
10. On that note, I'm out. I'll leave you with a photo of Hanna Montana. This was from a birthday party where Sophia's behavior was class act. NOT.